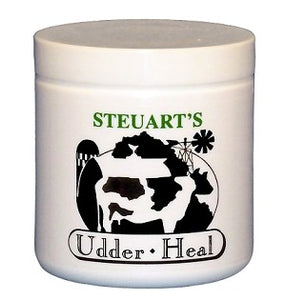 Description

Customer Reviews

Ingredients

Featured Testimonials
Description: Steuart's Udder Heal is an ointment containing comfrey extract and propolis tincture, which soothes and promotes healing of chapped or damaged teats and wounds. Propolis is a natural antiseptic that promotes healing. Udder Heal clings to the teat surface forming a good barrier, yet it washes off easily prior to the next milking. It is very stable when used under a bandage. Dairymen will notice a healing response when using this product. 
Suggested Uses: Chapped or damaged teats, Udder Rot, teat warts, and wounds. Also small animal applications, torn pads, minor wounds, and skin infections. 
Directions:

 

Apply to affected teats after each milking. When treating Udder Rot, clean the affected area and apply an even layer on the lesion after each milking. Teat warts will normally disappear after 2 to 4 weeks of continuous use. If used under bandages change at least every 4 days.

 

Caution! For external veterinary use only. Avoid contact with eyes. Keep out of children's reach.

 CONTAINS NO ANTIBIOTICS OR STEROIDS. 
Lanolin, Propylene Glycol, Bees Wax, Symphytom Extract, Vegetable Oil, and propolis tincture. CONTAINS NO ANTIBIOTICS OR STEROIDS.
Letter from a DVM: "Living on a dairy farm and with low milk prices the option to find a "bag balm" that works and is cost effective has become even more important on our farm and for my clients. I foolishly purchased an assortment of such products so I could recommend to my clients, a cost-effective ointment. Hands down your Udder Heal took care of minor-major chapping and teat lacerations in half the time the others took, and others may not have completely healed the chapping. I tell my clients the size of the jar is deceiving, you only need a small amount. From a practicing DVM, thanks for creating both Miracle Heel and Udder Heal. Your products are the best I've found."