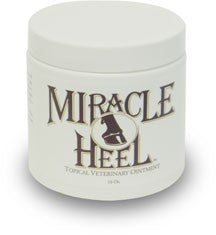 Description

Customer Reviews

Ingredients

Testimonial
Steuart's Miracle Heel is a topical ointment for equine containing comfrey extract and propolis tincture a natural antiseptic which soothes and promotes the healing of wounds, abrasions, and minor skin irritations. Speeds up healing time and is very stable under bandages. Change bandages every 2 to 4 days.
Hoof Conditioning: Apply once or twice daily to the coronary band area and the hoof wall. 
Suggested Uses:

 

Wounds, Abrasions, Minor Irritations, and hoof conditioning. 
Directions:

 

Clean the affected area and apply once or twice daily. Change bandages every 2 to 4 days. 
Lanolin, Propylene Glycol, Bees Wax, Symphytom Extract, Vegetable Oil, and propolis tincture. CONTAINS NO ANTIBIOTICS OR STEROIDS.
"I recently dispensed Miracle Heel for a horse with severe deep fissures involving the entire mouth due to chronic photo sensitization of 2 years. Within days of using Miracle Heel the fissures were healing. I know your product works fast, but didn't expect such rapid results since the area was so severely cracked. The client was extremely happy with the "new Miracle ointment" and so is the DVM.
Letter from a DVM: "Living on a dairy farm, and with low milk prices the option to find a "bag balm" that works and is cost effective has become even more important on our farm and my clients. I foolishly purchased an assortment of such products so I could recommend to my clients, a cost-effective ointment. Hands down, your Udder Heal took care of minor-major chapping and teat lacerations in half the time the others took, and others may not have completely healed the chapping. I tell my clients the size of the jar is deceiving, you only need a small amount. From a practicing DVM, thanks for creating both Miracle Heel and Udder Heal. Your products are the best I've found." Letter from a DVM