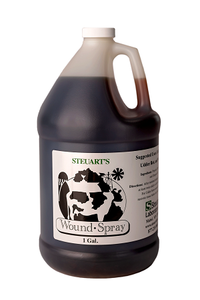 Description

Customer Reviews

Ingredients
Steuart's Wound Spray is a product designed for the treatment of udder sores, udder wounds, and udder rot. The spray facilitates the application of product on hard to reach areas.
Directions:

 

After minimal shaking, spray affected area at least twice daily or after each milking. For udder sores or udder rot, remove dead and necrotic tissue before the first application.
Propolis, Ethyl Alcohol & Oregano Oil.