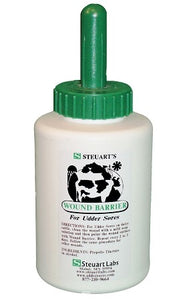 Description

Customer Reviews

Ingredients
Steuart's Wound Barrier was designed for the treatment of udder sores/rot. This is the fastest working product for udder sores. This product creates a long lasting barrier that promotes healing and reduces the amount of labor in the application of the product. Apply wound barrier every 2 or 3 days.
Directions: Apply to affected area after each milking. When treating Udder Rot for the first time, clean the affected area and apply an even layer.
Suggested Uses: Udder rot and wounds.
Caution! For external veterinary use only. Avoid contact with eyes. Keep out of children's reach.
Propolis Tincture in Alcohol & Pine Tar.