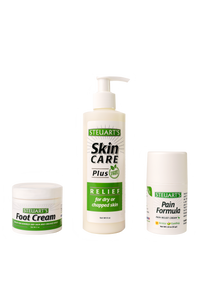 Description

Customer Reviews

Featured Testimonials

Ingredients
Steuart's Gift of Healing set is an assortment of Steuart's time tested formulas for healing. This gift set saves you 15% and comes with the following products that your friends and family will love:
• Steuart's Skin Care Plus
• Steuart's Pain Formula
• Steuart's Foot Cream
These are regular size items, not travel size.
Jack Zimmerman, Elysian, MN: Jack is a disabled Afghanistan war veteran. He stepped on an IED in 2011 & lost both of his legs. He is confined to a wheel chair because of his injuries. "After I spend a day in my wheel chair I end up with a lot of back, neck, & shoulder pain. Within a half hour of applying Steuart's Pain Formula I am pain free. Prior to knowing about Steuart's I could not tolerate a whole day in my wheel chair."
Daniel Poray, Alexandria, VA: "I was diagnosed with arthritis in my right leg and knee. I use Steuart's Pain Formula 2x/day and the pain has dramatically gone away and my movement, flexibility and range of motion have increased. The doctor recommended a cortisone shot and I was skeptical. I found Steuart's and glad I did!"
John Peck, Moose Lake, MN: John uses Steuart's Pain Formula for foot pain associated with diabetic neuropathy. If he forgets to apply it at night the pain will normally keep him awake. Using it will give him relief so that he is able to sleep. He also uses it for knee pain.
Mike Kirik, Union City, PA: Mike was introduced to Steuart's Pain Formula upon discharge for open heart surgery by a staff person at the Pittsburgh, PA VA hospital. Mike was told to use the product on his chest for pain relief during the healing process. He was able to get relief from the post-surgical pain in his chest plus he now uses it on his arthritic knee.
Mike Marsden, Mabel, MN: "I keep a jar of Steuart's Pain Formula by my bed and reach for it at night when my knee pain flares up. It knocks the pain right out. I've been using Steuart's Pain Formula for about 4 years and constantly recommend it to other people."
Betty Brooks, Buhl, ID: "I put the Pain Formula on my knees about 10:00 a.m. this morning, and it's now 9:00 p.m. and I'm still pain free. I've had knee surgery - and tried just about every product on the market - and this works. I've had a very good day! I could feel it working as soon as I put it on."
Thomas Lindberg, Two Harbors, MN: He says, "I have arthritis pain in my shoulders and back and was having trouble sleeping through the night because of the pain. I read about Steuart's in a farm magazine and was a bit skeptical at first but thought I'd give it a try. I was absolutely amazed at how well it worked and now use it every day. It works better than anything on the market."
Tom Donelson, Fargo, ND: Tom has been using Steuart's Pain Formula for over 2 years. "I give samples to everyone I meet that complains of joint or muscle pain. I've had minor knee surgery and a torn meniscus, as well as a degenerating disc. I originally used to take 2 to 3 ibuprofen a day. But now, after using Steuart's, I'm down to 2 to 3 a week. This product is great for anyone that doesn't want to or can't take drugs to manage pain. One woman I gave a sample to had jaundice in her liver from taking pain medication for arthritis. She's off medication and completely satisfied with this alternative. It's a wonderful product!"
Helen Lasseter, Moultrie , GA: "I just wanted to let you know how I fell about Steuart's Pain Formula. I found your Ad in the Almanac Book and ordered it and every word you said about the product is true. It relieves pain anywhere on my body and I have a lot. Face Pain from TMJ, Knee pain shoulder pain from cold weather. I am going to try the Skin Care Plus also, I have very dry skin from having to take medications."
Steuart's Pain Formula–
Active ingredients:
Arnica Montana
1X HPUS 7%,
Comfrey
(Symphytum Officinale)1X HPUS 5%.
Inactive ingredients:
Aloe barbadensis (aloe vera), leaf extract, carbopol gel former, cetyl alcohol, DI water, glucosamine sulfate, glycerine, histamine dihydrochloride, sodium EDTA, Ethlyhexylglycerine, phenoxyethanol, methylsulfonylmethane, (MSM/DMSO2), milk isolates, olive oil, safflower oil, salix alba (willow) bark extract, triethanolamine.
Skin Care Plus – DI Water, sea salt, aloe vera powder, glycerin, comfrey extract, xanthan gum, potassium sorbate, sodium benzoate, glycerol stearate, stearic acid, sunflower oil, cocoa seed butter, vitamin E and frankincense oil.
Foot Cream – DI
Water, Comfrey, Olive Oil, Jojoba Oil, Tea Tree Oil, Glycerine, Titanium Dioxide, Triethanolomine, Stearic Acid, Stearyl Alcohol, Cetyl Alcohol, Glycerolmonostearate, Germaben (preservative)