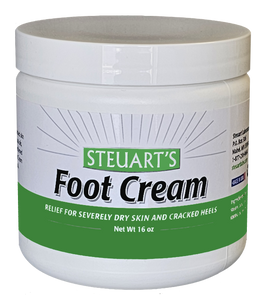 Description

Customer Reviews
Steuart's Foot Cream is a solution for itchiness, dryness, athlete's foot and severely cracked skin. It contains natural oils, Comfrey Extract, and Melaleuca oil. Comfrey extracts soothes inflamed tissue and stimulates healing, while Melaleuca oil is a natural antiseptic. The natural oils penetrate the skin rapidly and leave no greasy residue. This is a superb product for cracked skin, "itchy" feet, and slow healing sores. 
Suggested Uses: Dry cracked skin, athlete's foot, other skin irritations. 
Directions: Clean the affected area and apply an even layer two to four times daily. If used under a bandage change twice daily. CONTAINS NO DRUGS, STEROIDS, OR MINERAL OIL.