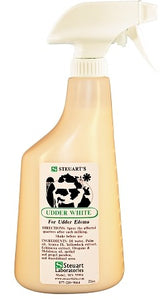 Description

Customer Reviews

Ingredients
Steuart's Udder White 
will normally reduce udder edema within 3 days. Udder White contains Arnica 1X, tea tree oil and Oregano Oil in a convenient spray formula that penetrates the skin very rapidly. Contains no drugs or steroids. 
No residues/no milk withholding.
 Also available with a green dye added to the product.
DI Water, Arnica Extract, Comfrey Extract, Palm Oil, Tea Tree Oil, Oregano Oil, Glycerine, Triethanolamine, Carbopol, Stearic Acid, Glycerol Monostearate, Cetyl Alcohol, Menthol, Polysorbate 20, Milk Isolates, Corn Mint, Germaben II-E.